26/10/06
More from Badaan Farm - Categories:
Bird Images (posts)
-
ajdh
@
10:02:09 am
Yesterday I was very bleary eyed when I got home from Badaan farm. So much so that I thought some of the other flight shots weren't worth posting. However, this morning I'm fresh and focused and after checking out some of the pictures, they aren't as bad as I first thought. Here's a gallery of some of the ones I didn't post yesterday.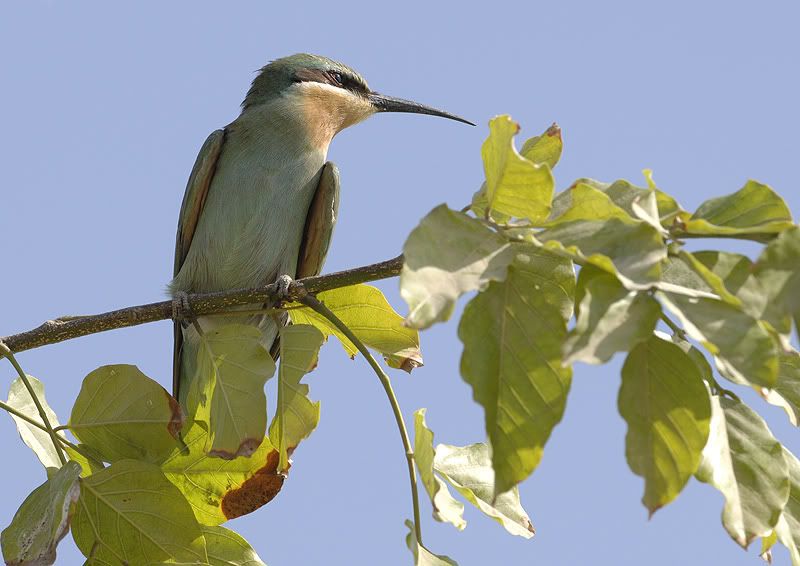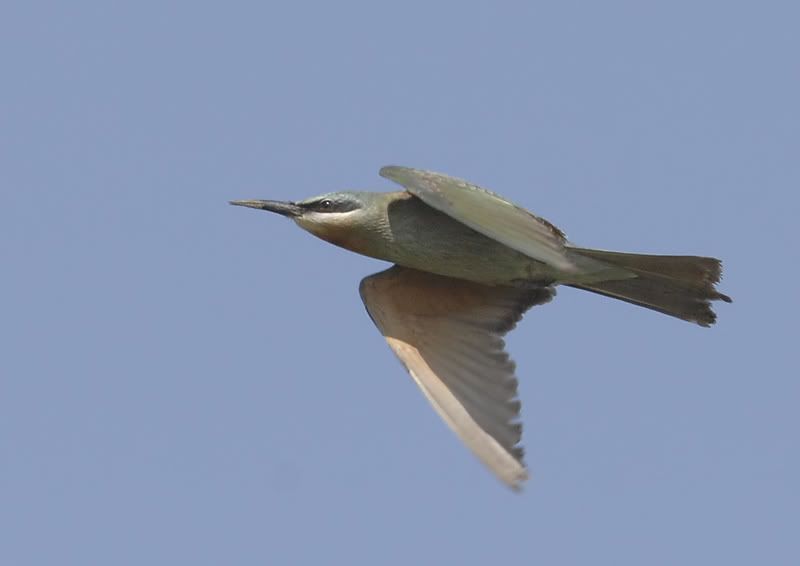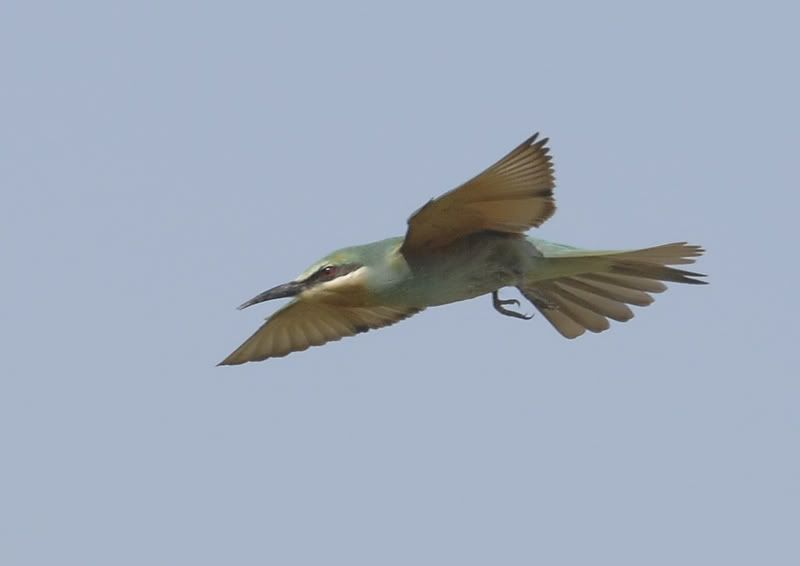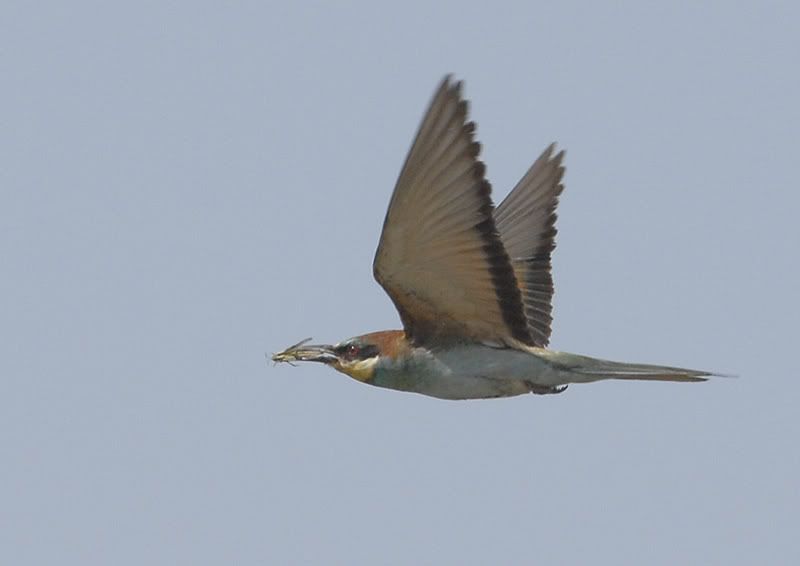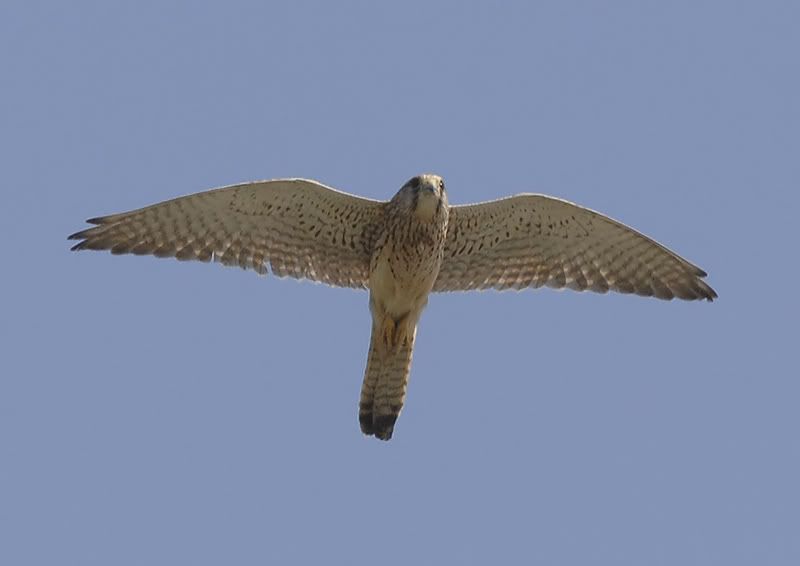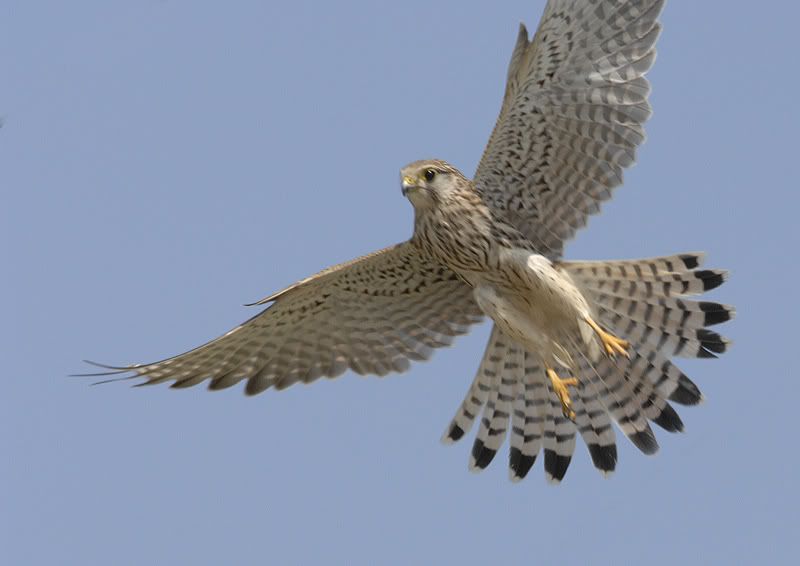 25/10/06
A day at Badaan Farm - Categories:
Bird Images (posts)
-
ajdh
@
06:02:33 pm
Howard was kind enough to take me to Badaan Farm today. What a treat it is, there are birds galore and you don't know where to start. I have so many pictures, I'll have to put them up in batches. Here's the first batch of three.

A barn swallow on the wing. I tried all day and this was the best.

A blue-cheeked bee-eater head on.

Another blue-cheeked bee-eater, complete with lunch.
Here's the second batch c/o Photobucket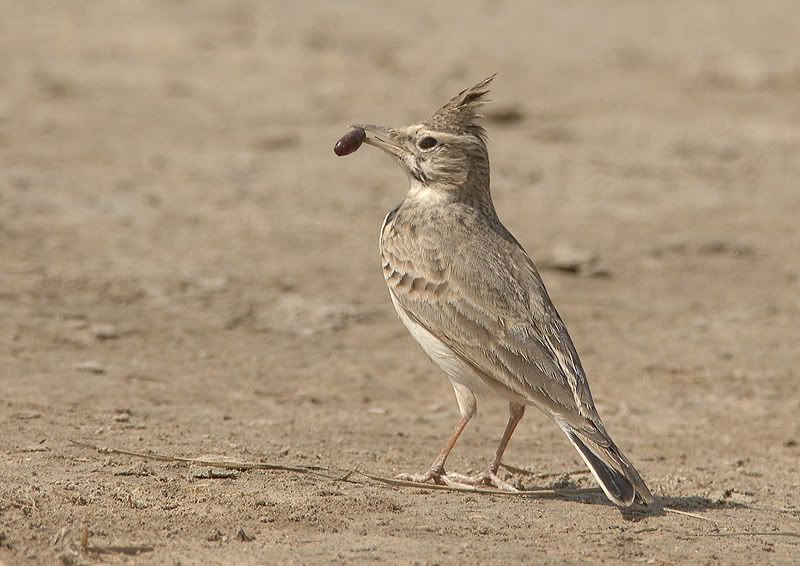 A nice meal for a crested lark

This namaqa dove looks as if he's eying me up.

I tried to get some flight shots of the kestrels but they did not turn out too good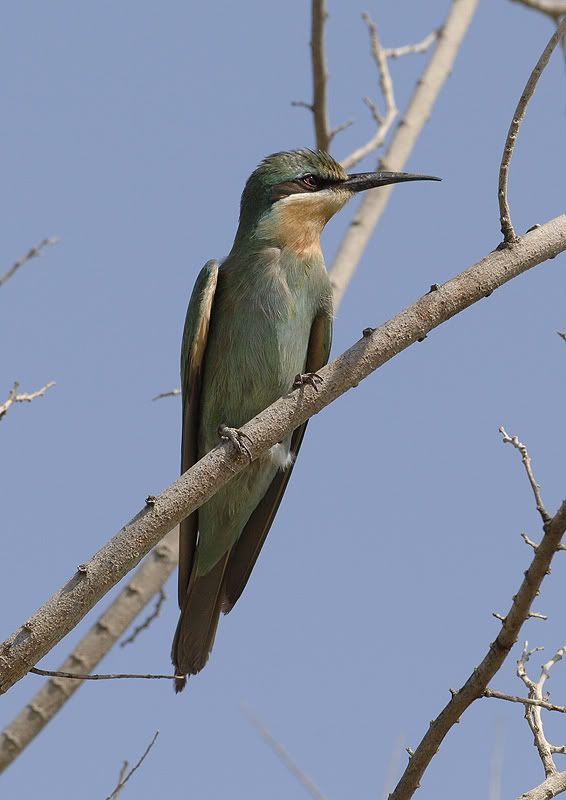 A few more blue-cheeked bee-eaters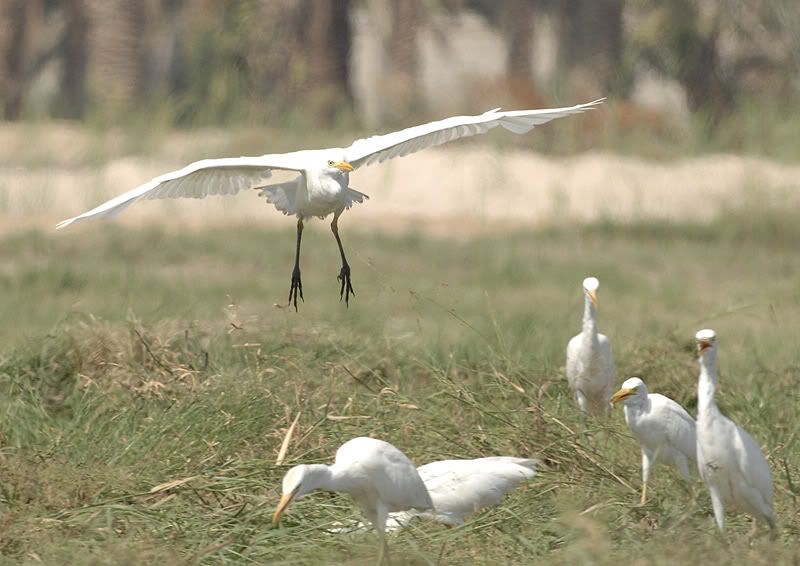 There were plenty of cattle egrets about.
These are the last two

A wagtail out in the field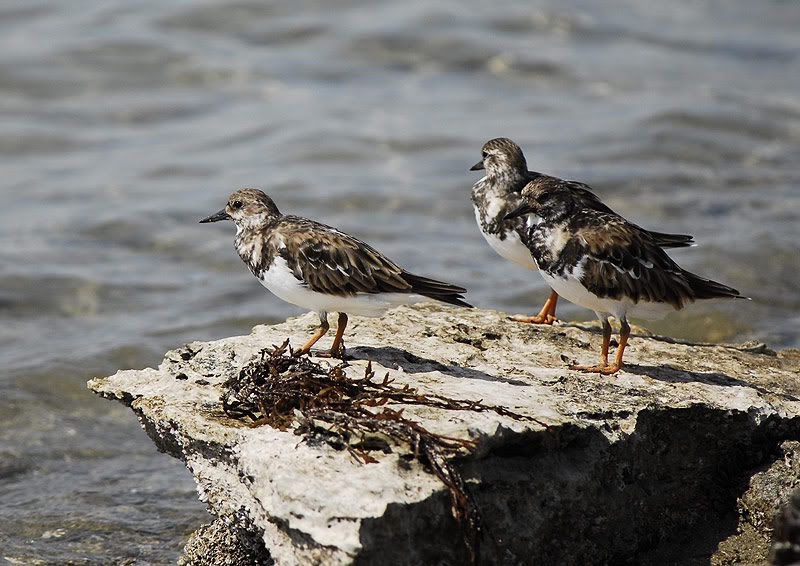 The farm is on the coast and we managed to get a shot of these turnstones
24/10/06
It's Eid so I've had some time off work. - Categories:
Bird Images (posts)
-
ajdh
@
06:54:29 pm
For those who don't know, Eid is a bit like christmas and most places shut for a few days. This has given me a bit more time for some bird photography, hence the mid week post.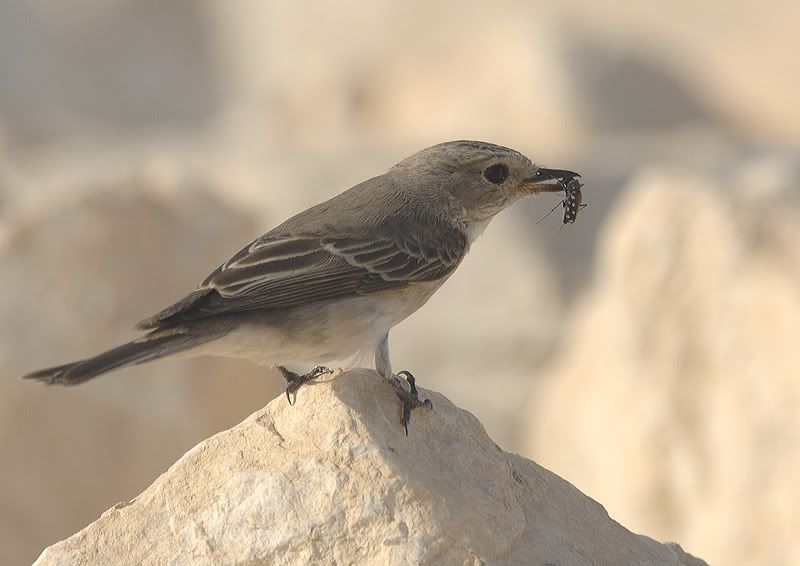 I thought I'd post this first, it's a bird catching a spotted fly. Maybe that's where the name came from? Spotted flycatcher.

Another image of the same bird but a different fly.

Another favourite, the white-cheeked/eared bulbul. There's always some confusion as to the correct name, my guide book says white-cheeked so I'll stick to that.

This pied wheatear was catching flies in the same location as the previous flycatcher.

It most be a very popular spot because this other female pied wheatear (1st winter plumage) was hunting there too.

Always a crowd pleaser, greater flamingos, flying off for the night. There's always a gull getting into the act.
20/10/06
This weeks observations - Categories:
Bird Images (posts)
-
ajdh
@
08:58:16 pm
I was hoping to have a few pictures of grey hypocolius this week but as yet, they don't seem to have arrived. Still I did manage a few interesting birds which are pictured below.

I usually manage to see at least one European roller per season and here it is. This was taken in Al Khobar, Saudi Arabia.

This one is from last week but it shows the natural camouflage the common snipe has so I included it this week. Taken at Riffa, Bahrain last week 13th.

This young isabelline shrike was a visitor to my neck of the woods during the week.

I also spotted this young red-backed shrike in Al Khobar. It's a bit dark as it was almost dusk when I saw him.

Today at Riffa, Bahrain I got off several shots of the white wagtails, this is one of the best.

At first I thought this was a marsh sandpiper but have been reliably informed it's a redshank, the yellowish legs threw me. This bird was also frequenting the oasis at Riffa.
13/10/06
Friday the 13th turned out lucky - Categories:
Bird Images (posts)
-
ajdh
@
05:42:29 pm
I got my first picture of a common snipe and a very accommodating wheatear stayed next to my car whilst I fumbled with my camera and finally got off quite a few shots. Both these pictures were taken in Riffa, Bahrain.
Thursday in Saudi Arabia was pretty good also. I got a juvenile and mature black winged stilt in flight and some close ups of a socotra cormorant. I spotted two common kingfishers but did not get a picture worth posting.

The common snipe

A very accommodating wheatear, probably a northern

The black-winged stilts

Portrait of a socotra cormorant

A very unusual shot of the same cormorant. He has managed to turn his head through more than 180 deg. It looks like the strain is popping his eyeballs.
07/10/06
A few shots from Friday - Categories:
Bird Images (posts)
-
ajdh
@
05:19:15 pm
Having been moved on from my favourite beach, I decided to take a quick trip to Bahrain and visit a small Oasis in Riffa that I'd been to with Howard, Brendan and Juhani. It was a very windy day and there was not much about but I did manage to get a couple of decent shots.


Northern wheatear with a fly in it's bill.

Hoopoe

Juvenile little ringed plover
After Bahrain I went back over the causeway and saw a common kingfisher near to the Al Khobar port. Unfortunately it was frightened off by a cat before I could take a picture. I did manage a couple of shots that have been causing some discussion on the hosting website.

Little stint in non breeding plumage

What was thought to be a great knot but has now been classified as a dunlin.

The stint and dunlin together for comparrison.
05/10/06
Observations from the past two days - Categories:
Bird Images (posts)
-
ajdh
@
08:55:28 pm
There has been a huge influx of dunlins and my usual beach was covered in them. I managed to get some pictures but was ordered off the beach by some security personnel. It may be some time before I go back if at all as I don't want to risk losing my camera. I guess I'll have to find somewhere else that's accessible by 4X4.

Dunlin ready for take off.

Western reef heron combing it's feathers.

Curlew sandpiper in first winter plumage.

Last of all a ringed plover.