25/11/06
A mixed bag - Categories:
Bird Images (posts)
-
ajdh
@
05:13:00 pm
There's a mixed bag of shots from Saudi and Bahrain this weekend. The little stint landing and the dunlin about to take off are from Al Khobar, Saudi Arabia. The others are from Badaan farm Bahrain.

Little stint.

Dunlin

Bahrain's welcome visitor, the first recorded bittern for nine years

A nice stonechat from Badaan farm

This grey heron buzzed me, I'm glad he didn't dive bomb me

One of Badaan's isabelline shrikes

The silverbills are a regular and I like to take a few shots in between the scarcer birds. (Edit) Since seeing Juhani's picture of the week on www.virtual-bird.com I have revised my first identification and now think this is a juvenile adavadat. The feet look red where the silverbills would be greyish. I'd appreciate any comments on the matter to ajdh@boltblue.com

I'd been hoping to get a bluethroat and managed to spot this first winter female
20/11/06
Saturday afternoon with Howard (18th Nov 2006) - Categories:
Bird Images (posts)
-
ajdh
@
02:43:36 pm
On Saturday I had to go to Bahrain to pick up my wife from the airport. Not one to miss a trick, Howard suggested I came over early and pick him up, he said he had somewhere to take me. We went to a beached area near to the airport and spotted what I first thought to be whimbrels but have since found out are curlews. Along with them but separated were lots of slender-billed gulls. Howard got out of the car and his frightening appearance was enough to spook the birds. Fortunately I managed to get some shots of them in flight.
We also spotted a Caspian tern flying just off shore searching for a meal.
After the beach we went to Saar to check on the hypocolius. Although it was almost dark when we got there, I managed to get a shot of this small group heading for a roost.
14/11/06
I took a day off work last Saturday - Categories:
Bird Images (posts)
-
ajdh
@
06:08:55 pm
I felt like a day off work on Saturday so I took a leave day and went over to Bahrain. For a change I went to the oasis at Riffa as it's been a while since my last visit. There were a few birds around and I manage to get pictures of a water pipit, pied wheatear and green sandpiper. After the oasis I popped over to Saar as I'd been told there were hundreds of hypocolius the previous evening. I was surprised to see a group of birdwatchers with tripods and scopes looking for the birds. It was a group from Bird Quest who had been down in the Oman and had arrived in Bahrain for the hypocolius. As I didn't want to spoil their trip, I just took the one picture.

Male grey hypocolius

Water pipit

Pied wheatear

Green sandpiper
11/11/06
Only one picture from Friday - Categories:
Bird Images (posts)
-
ajdh
@
10:48:10 am
I went to the farm on Friday morning but didn't take many photos. My preference is the afternoon when the light is better. As I was feeling tired I decided to go back to Saudi early. The traffic was bad and when I'd finally got back over the causeway, I thought I'd just have a quick look at the fishing port in Al Khobar. I'm glad I did as this Saunder's tern was circling and hovering just off shore. I managed to get a few close shots, this is the best.
09/11/06
Today's haul from Badaan farm - Categories:
Bird Images (posts)
-
ajdh
@
08:30:49 pm
Here's what I've got so far from Badaan farm today. There are plenty more but I can only upload 3 at a time with my slow dial-up connection.

This one completely stumped me so I sought help elsewhere on the Internet. I'm reliably informed it's a yellow-crowned bishop.

This male kestrel had just made a kill. I was lucky enough to spot him feeding on what's a mynah or dove.

As usual there were plenty of cattle egrets about and I caught this one in the air.
To continue................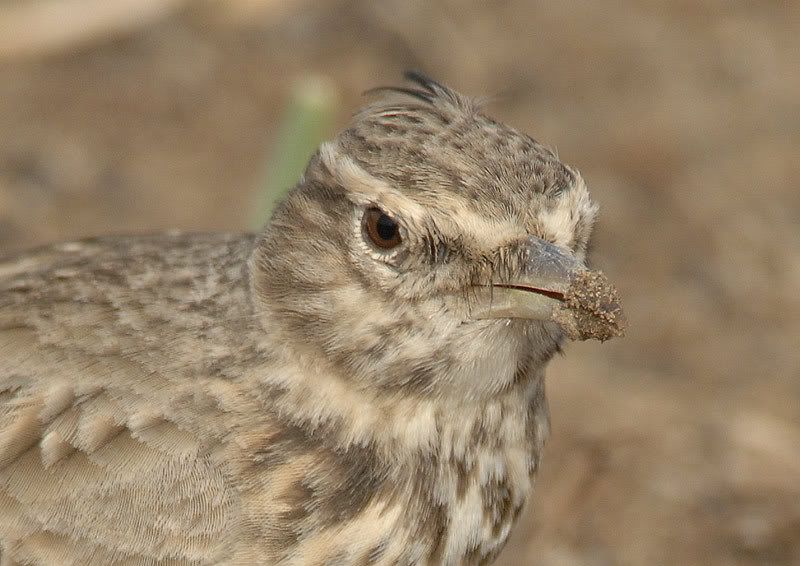 This lark was so busy feeding, it allowed me to get very close.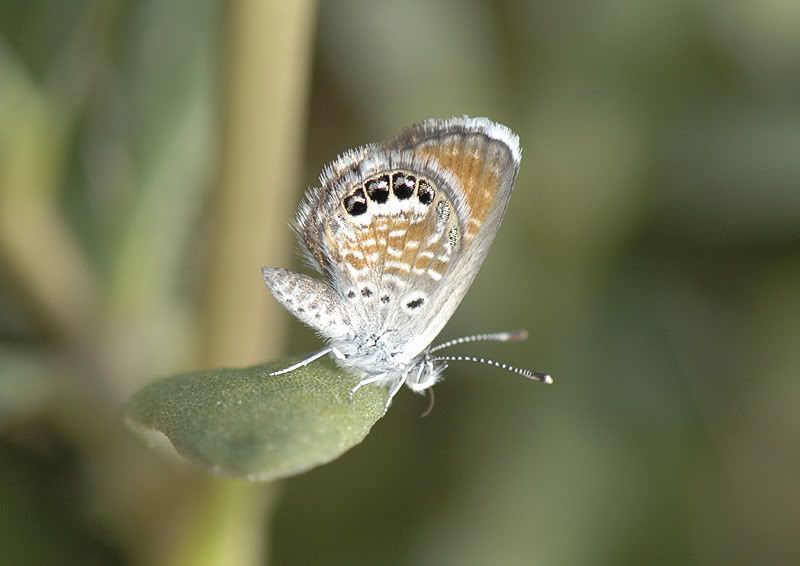 This is the smallest butterfly I've seen. It must have been no bigger than 1/4 inch.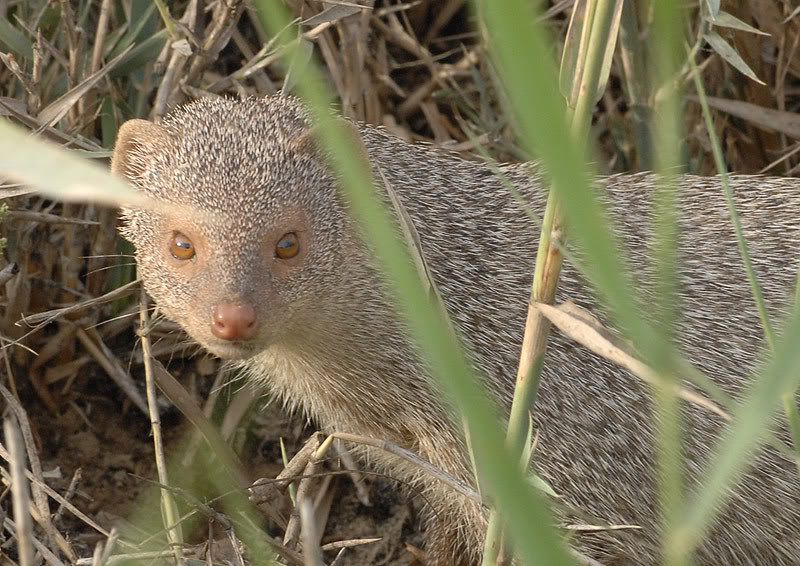 I think the mongoose was looking for a snake in the grass.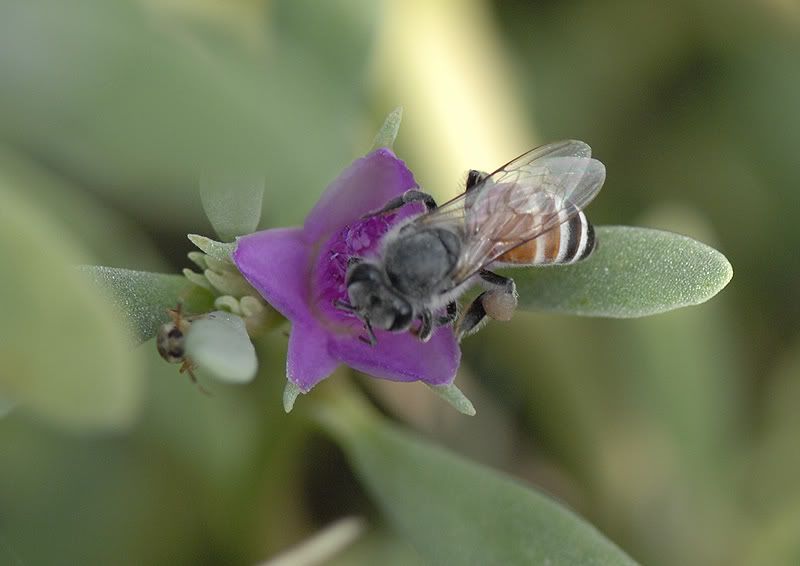 A very busy bee with pollen filled sacks. Notice the other small critter to his left, keeping a wary eye on him.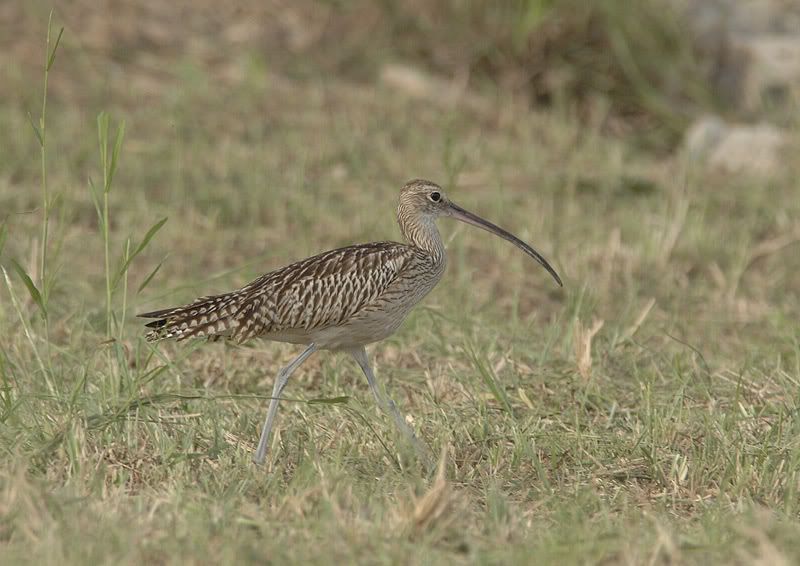 I almost forgot, here's one for Norman Van Swelm.
05/11/06
A quick afternoon trip to Badaan farm - Categories:
Bird Images (posts)
-
ajdh
@
09:21:05 pm
This afternoon 5th Nov, I had a quick trip over the causeway to Badaan farm in Bahrain. As yet I haven't processed all my pictures but here's a few to be going on with. This time I thought I'd photograph some of the other wildlife that lives on the farm. The only one I can safely name is the mongoose.
continued

This one must have been no bigger than 0.5 inches.

There were lots of dragonflies in many shades of red. I particularly liked this one.

To finish off, a nice Indian silverbill.
04/11/06
A day out with Howard and Juhani - Categories:
Bird Images (posts)
-
ajdh
@
03:15:00 pm
Yesterday I spent the day with Howard and Juhani. I think we went to every available site in the pursuit of birds. We did manage to spot a few rarities and got some pictures to prove it. Juhani has probably got the best pictures because he borrowed my big lens and wouldn't give it back. :) Among the sightings was a bittern on Badaan farm, which Howard says is the first sighting since 1997.

Tawny pipit making a noise!

The bittern

Western reef heron chasing fish

I was lucky with this mourning wheatear, it just took off as I pressed the shutter.

This great grey shrike was so tame we could almost reach out of the car and touch it.

Lastly, some old buzzard we stumbled upon. :) LESS OF THE OLD THANKYOU - webmaster