26/01/07
Temminck's stint and gulls - Categories:
Bird Images (posts)
-
ajdh
@
08:25:19 pm
Howard was showing a couple of visitors around the island today and I tagged along just in case we saw anything I could photograph. Most of the birds we saw were too far away or it was too dark. These are three of the best shots of the day.

Bill, one of the visitors, spotted the temminck's stint at the oasis we frequent.

This gull was at Bahrain's smelliest, horrible tip. Howard knows all the classy joints.

This black-headed gull had bitten off more than it could chew.
25/01/07
Al Khobar's finest - Categories:
Bird Images (posts)
-
ajdh
@
01:12:44 pm
This morning I went to a spot about 300 yards from my house. It's a very reeded area with lots of standing water. I managed to get close enough to a common kingfisher for a shot. I've not been able to get close enough before and had even bought a camouflage tent to use as a hide. (It's now for sale - cheap) All the pictures are taken from the same spot.
Obviously the kingfisher. One bird that's easy to identify.

I'm not positive which reed warbler this is. The very dark legs are throwing me. Now positively identified as a European reed warler.

One that I do know, graceful prinia.
20/01/07
More little stints and others - Categories:
Bird Images (posts)
-
ajdh
@
05:44:02 pm
Here are a couple of the little stint pictures from Thursday. They must have been feeling the biting wind as they were using any windbreak they could. Obviously the one in the second picture had no friends.
Down in the wadi on Friday was a lot duller and just as cold. I got to within feet of this fluffed up laughing dove before it reluctantly flew off.
Another visitor to the site was a pair of citrine wagtails. These appeared after Brendan had left, they must have been watching from a safe distance.
This little stint had been ringed less than an hour earlier and seemed content with it's new ankle bracelet.
19/01/07
Gulls galore - Categories:
Bird Images (posts)
-
ajdh
@
07:34:58 pm
As we can't get into Badaan farm at the moment, on Thursday, Howard took me to a spot in Bahrain, near to the old Potuguese fort. There were plenty of gulls around and as I'm hopeless at identifying them, I'll leave that to the experts.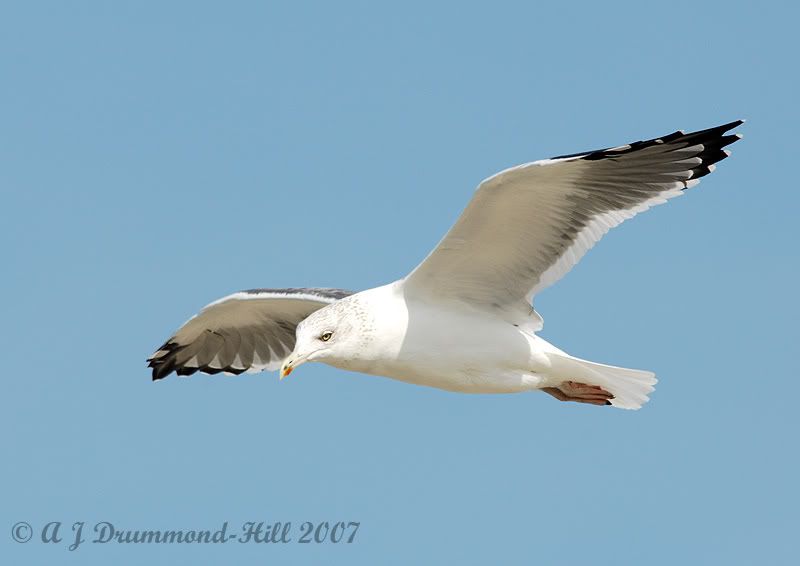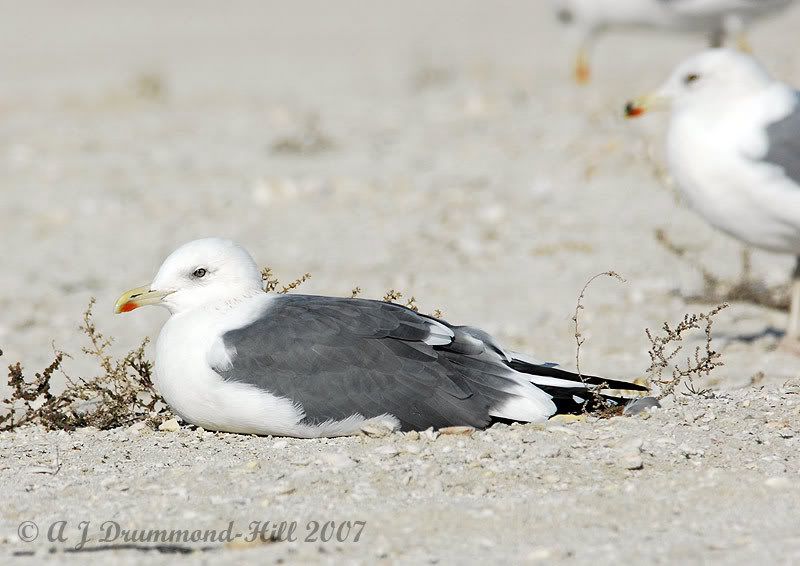 Here's a small flock of little stint, the beach was full of them and I have some more images that I'll post tomorrow.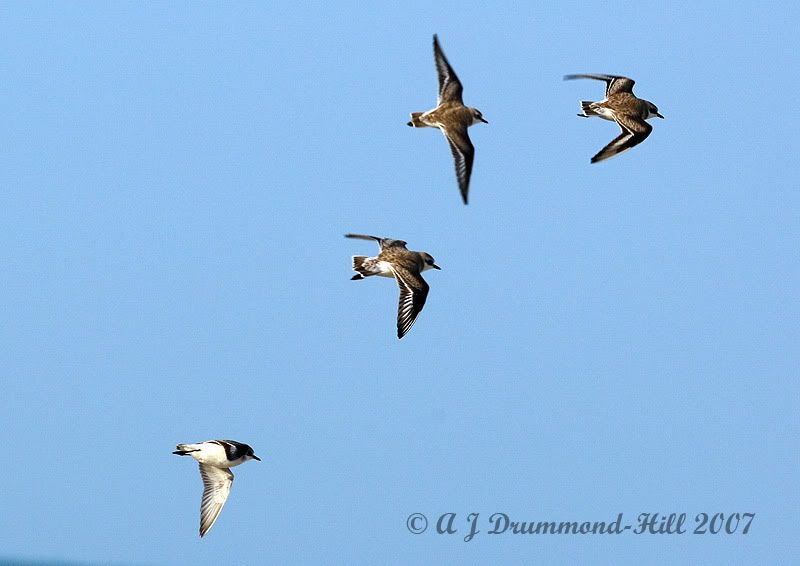 Today we went to the Riffa wadi and Brendan did some ringing, this is the wood sandpiper he caught, just being released.
13/01/07
Equipment check - Categories:
Bird Images (posts)
-
ajdh
@
05:31:01 pm
A few correspondents have ask what equipment I use so here's a list.
I have two camera bodies, a Nikon D200 and a Nikon D2Xs. For the flight shots of the quicker birds like the swifts and bee-eaters I use a Nikon 300mm f2.8 with vibration reduction. For the close shots of most of the stationary birds I've attached a Nikon X2 converter to this lens. I also have a Nikon 105mm micro lens for macro work which was used on the recent butterfly and dragonfly pictures.
I shoot both a RAW file and a Jpeg, the reason being I'm not fully proficient with Photoshop and so all my pictures so far have been from the Jpeg file with a small amount of tweaking. I've kept the RAW image files for the future, just in case.
Regards,
AJ
From Webmaster - even if AJ had only a brownie camera - he would still take a bloody good picture and this is what he looks like people !

12/01/07
Another attempt at the swifts - Categories:
Bird Images (posts)
-
ajdh
@
05:12:48 pm
The light was better today so I thought I'd have another go at the Pallid Swifts Apus pallidus. These images are better but still not what I'd like. Whilst trying to get some pictures, I missed a pied kingfisher (with the camera) which was a first sighting for me. Other misses with the camera this weekend were a marsh harrier (I got a distant shot) and a steppes eagle. Anyway here are the swifts and some gulls for the gull men.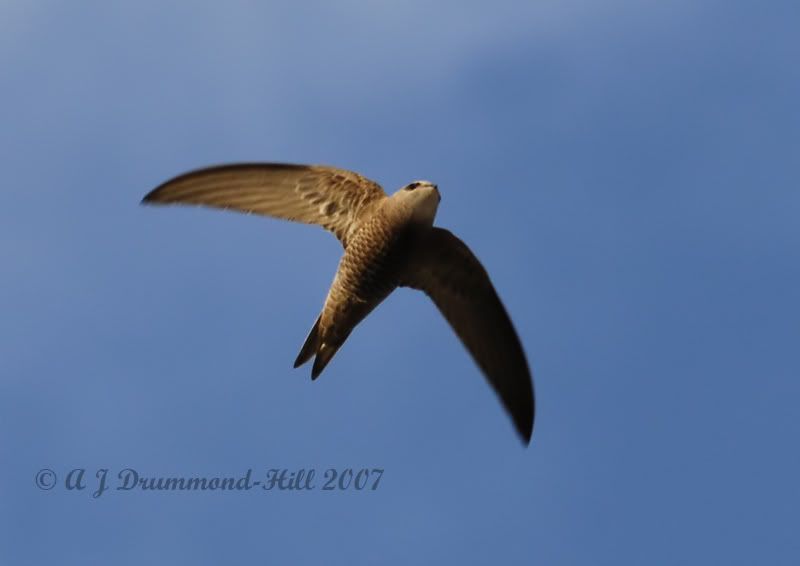 11/01/07
A difficult challenge - Categories:
Bird Images (posts)
-
ajdh
@
05:29:42 pm
I set myself too difficult a challenge today. I'd seen some swifts near to where I live in Al Khobar, Saudi Arabia and thought I'd try to get a couple of shots of them. This is the best I could manage with the available light. I'll try again if they are still around when the light improves.
This common sandpiper was on the rocks down at the fishing port. He let me get quite close before deciding to wander off.
This is another oiled flamingo. Fortunately they are in the minority and this one had no trouble flying.
04/01/07
Some from the day I got stuck and some from this weekend - Categories:
Bird Images (posts)
-
ajdh
@
05:18:03 pm
Here are a few from the day I got stuck at Badaan farm.

This little egret was a camera hog, everywhere I drove to, it landed nearby.

There are plenty of tawny pipits on the farm.

The cattle egrets were doing well in the flooded fields.
The following are from Al Khobar, Saudi Arabia, today.


This black-winged stilt landed just in front of me. Very convenient.

The black-headed gull has just spotted a bit of lunch. (Thanks to Anders Lindström for the ID)

There were lots of greater flamingos around today, this is just a small sample.
A few more from today..................

Grey plover.

Greenshank

More of the huge amount of flamingos that are around at the moment.