30/03/07
Black-winged stilts and a strange bulbul - Categories:
Bird Images (posts)
-
ajdh
@
07:34:55 pm
I managed to get very close to some black-winged stilts that reside in the reed beds near to my home. I think they may be getting used to my vehicle.
These last two had just had a bit of hank-panky when I caught this image.
I saw this bulbul today and was suprised to see it's vent was orange instead of yellow. Also there seems to be too much black around the head. My thoughts are it could be a hybrid, the result of a red vented and white cheeked cross breeding.
A couple of terns to end with.
A gull-billed tern
What looks like a Saunders's tern with a little tern.
25/03/07
Just one from today - Categories:
Bird Images (posts)
-
ajdh
@
06:26:18 pm
I went out to the reed beds near to my house this afternoon. Unfortunately the light was fading fast and there was not much around. I spotted this Saunders's tern hovering over the reeds and managed to get one decent shot of it.
24/03/07
Our weekend was quieter than usual - Categories:
Bird Images (posts)
-
ajdh
@
05:23:17 pm
It's been very quiet of late and we had expected to see more migrants passing through on their northern journey. However we did not go empty handed and here are some of the birds.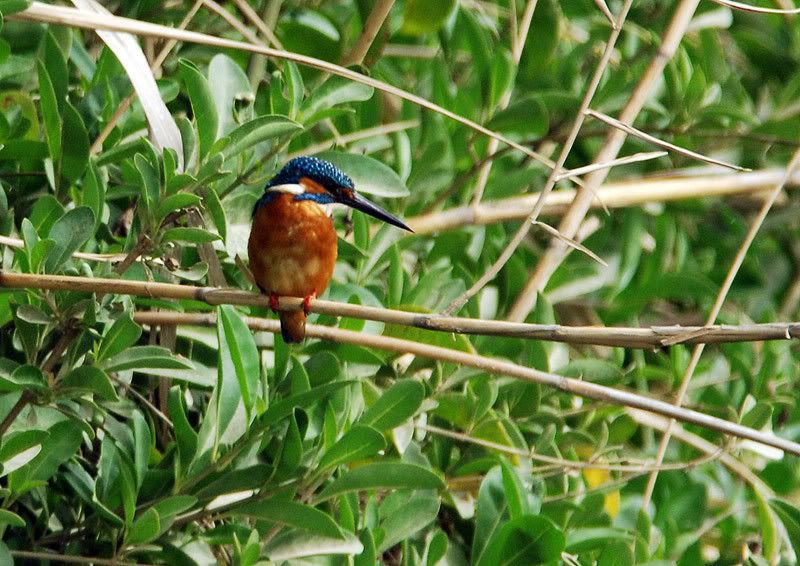 This was as close as we could get to this kingfisher.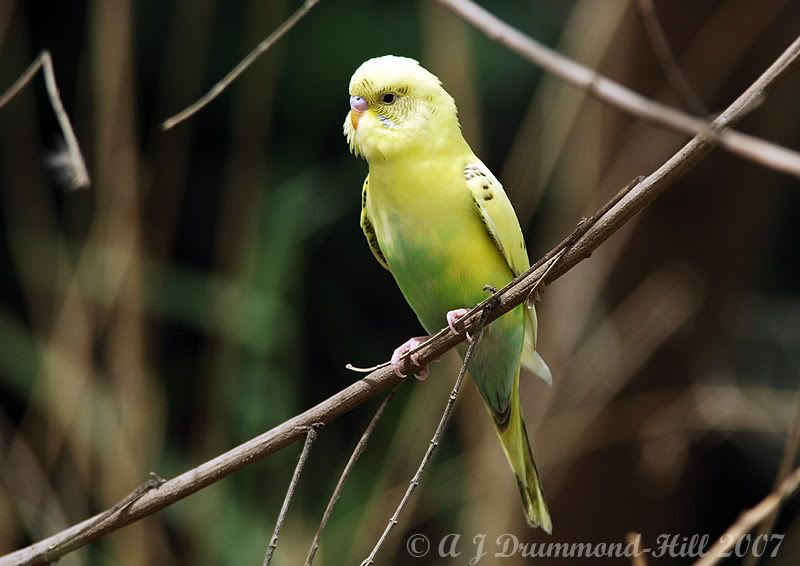 Here's a new species for Bahrain, unfortunately Howard won't credit me with the observation.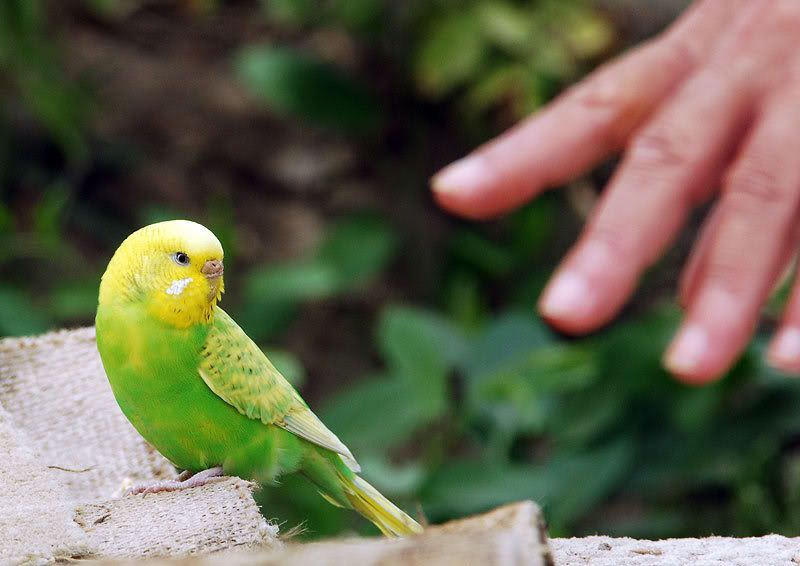 Just shows how close you can get to some birds. Even so he flew away before Howard could grab him.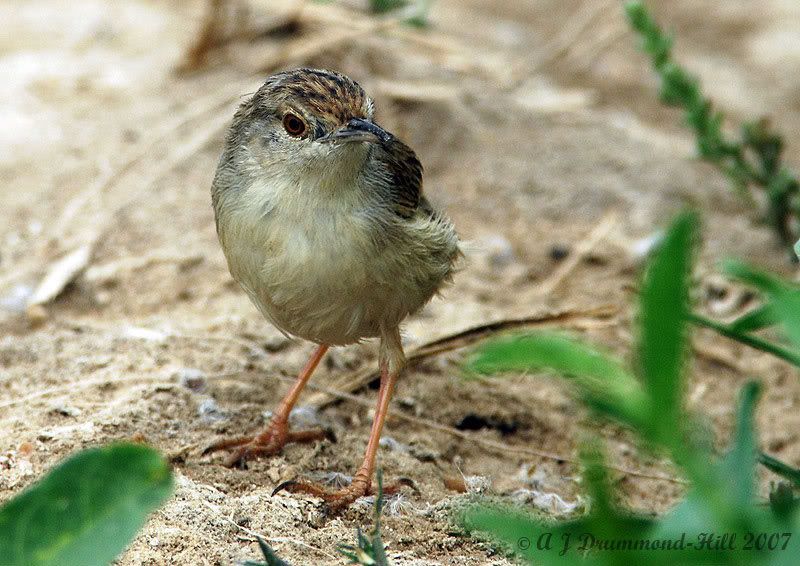 One bird that wasn't scarce was the graceful prinia. These are just a few of the shots I got.

Little egrets were plentiful and they get everywhere.

Down at Badaan Farm I thought I'd try a few flight shots of the crested larks.

One very cooperative bird was this wheatear which we can't decide if it's a female northern or male Isabelline.
15/03/07
A busy morning - Categories:
Bird Images (posts)
-
ajdh
@
03:58:48 pm
My morning has been very busy. I first went to the reed beds across the road from my house but the birds were not cooperative today. I then went down to the area around the Al Khobar fishing port. There's a strip of land that juts out into the sea and a sewage outflow at the end of it. It's a good place for gulls and terns in flight. In the same vicinity are quite a few waders, some of which I managed to get in a group flight shot.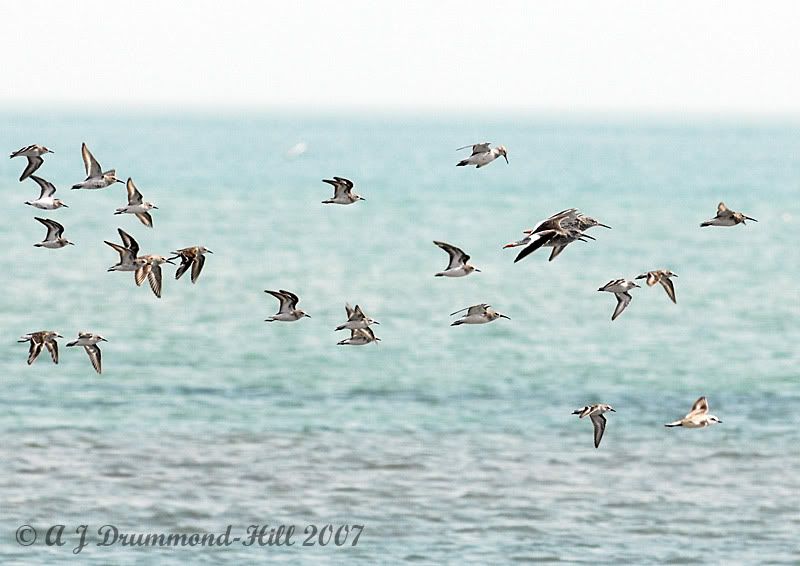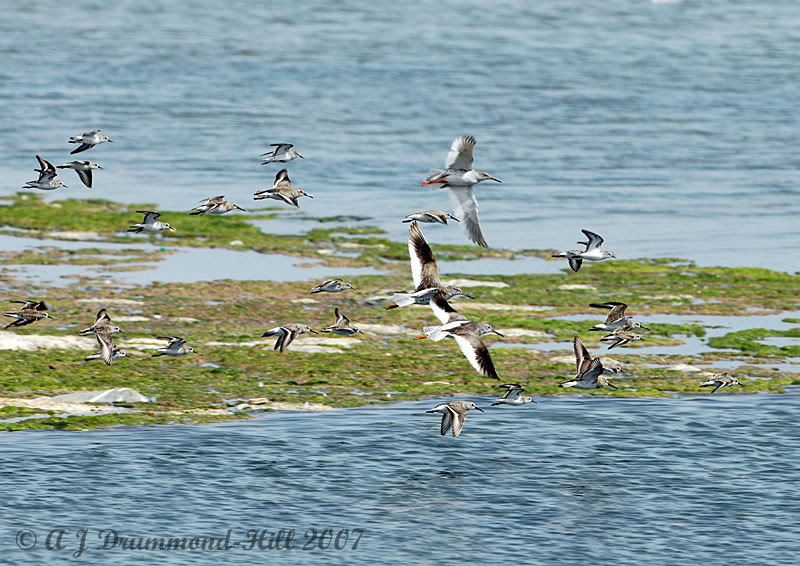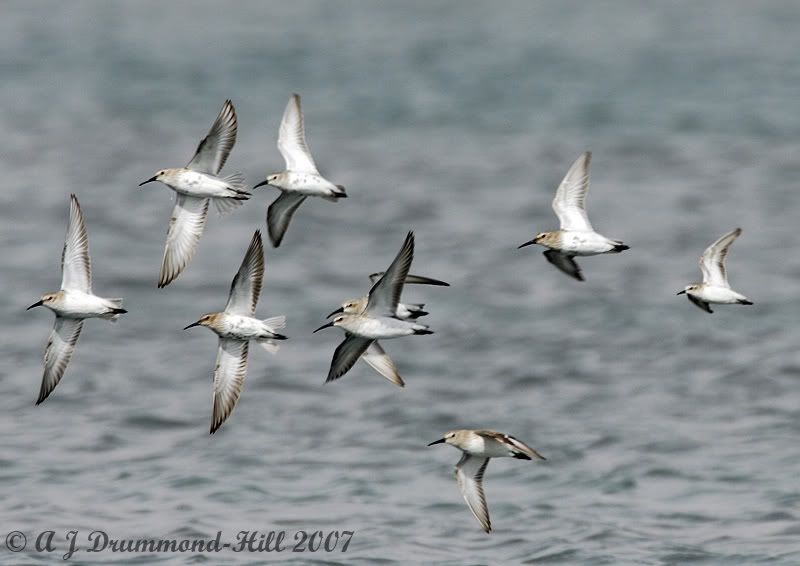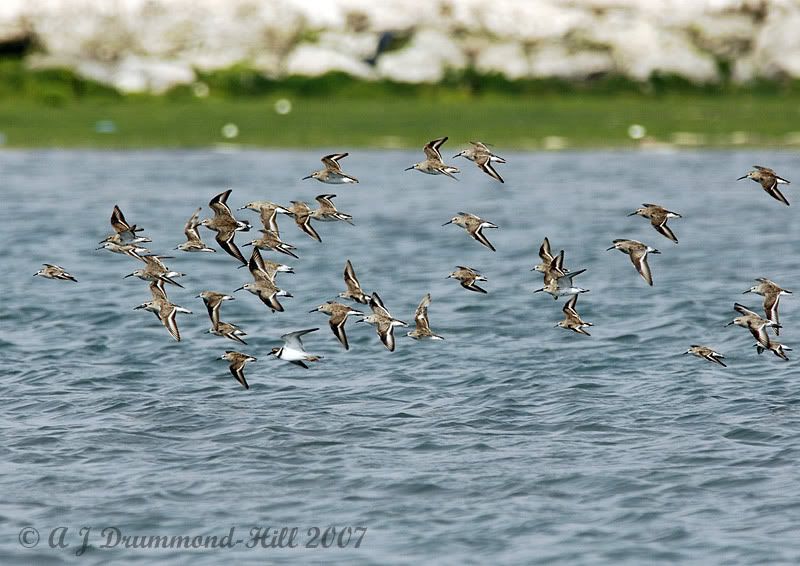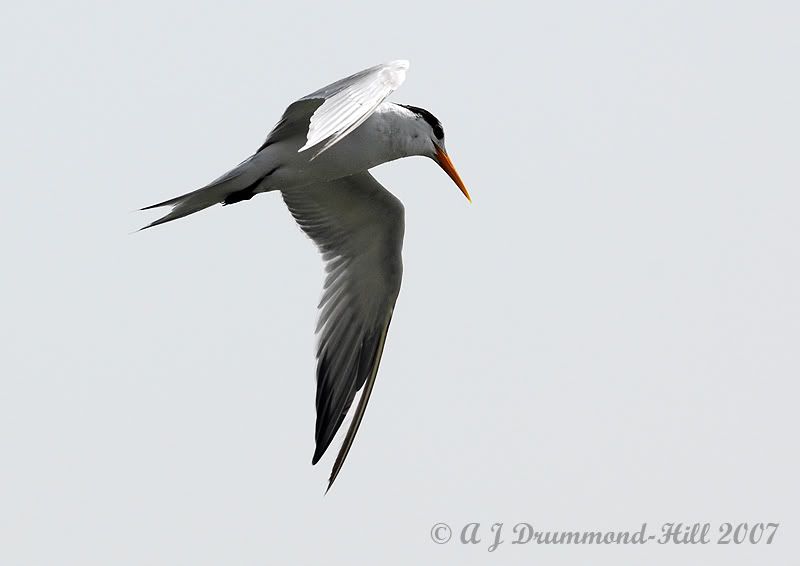 Lesser crested terns and black-headed gull in the same location.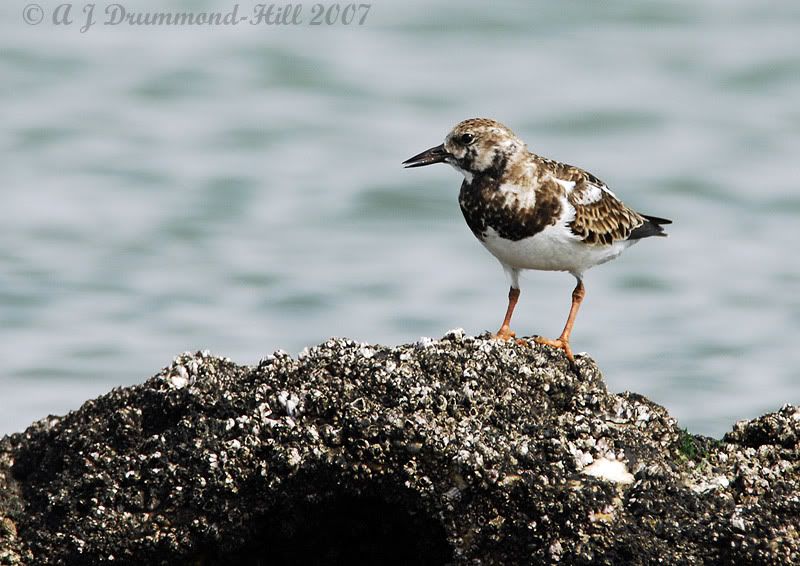 The turstone and flamingo were nearby.
At a beach near to my house I almost ran over this kentish plover, I'm wondering if there is a nest nearby.
12/03/07
Another late afternoon outing - Categories:
Bird Images (posts)
-
ajdh
@
07:43:24 pm
After yesterdays pictures, I thought I'd have another go at the graceful prinia. Whilst in the reed beds a white-cheeked bulbul landed right at the side of me so I would have been silly not to photograph it. The curlew sandpiper was in a rain pool along with a host of other waders.
11/03/07
An evenings toll - Categories:
Bird Images (posts)
-
ajdh
@
07:05:19 pm
I went out late this afternoon, just before dusk. The light at this time gives some unusual effects and pleasing colours. Here's some of my haul.

Ringed plover

Female kentish plover

Graceful prinia
Now I've got the hang of animated gif files, here's one of the prinia in full song, sorry no sound file to go with it.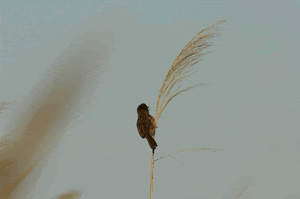 10/03/07
Let's twist again - Categories:
Bird Images (posts)
-
ajdh
@
05:21:36 pm
A while ago I posted a picture of a Socotra cormorant with it's neck twisted completly around. I had a sequence shot of this and have just got round to making an animated gif file from it. Here is the result.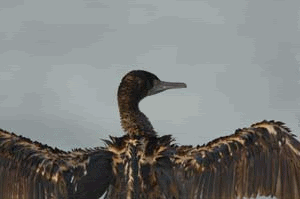 09/03/07
After a slow start we had a good day today - Categories:
Bird Images (posts)
-
ajdh
@
09:16:34 pm
Badaan farm was very sparse of bird life today so I spent some time on the critters. Apart from the obvious, I haven't a clue as to what most are.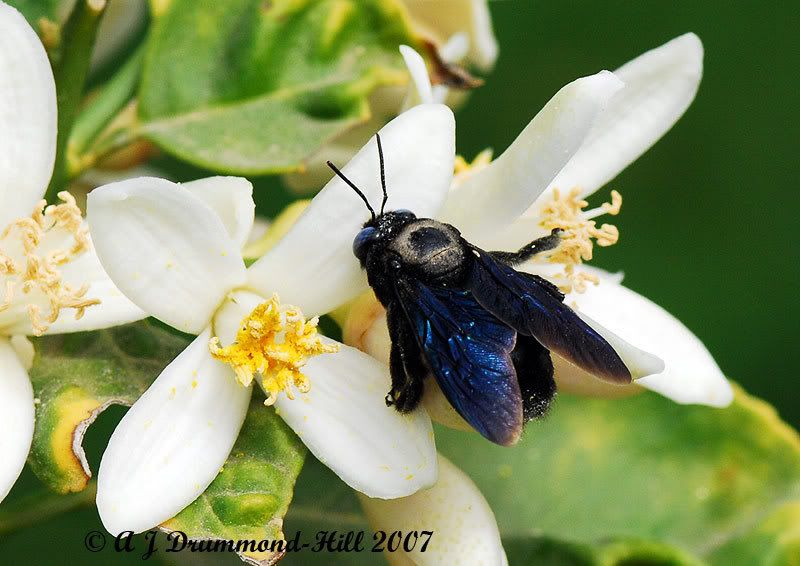 I've managed to get the oddities identified. This is a Violet Carpenter Bee, Xylocopa sp

Marmalade Fly , Episyrphus balteatus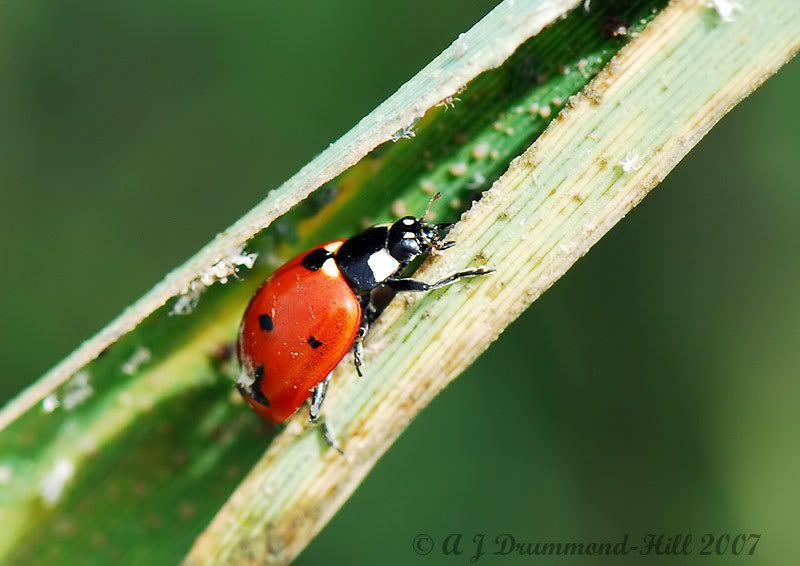 Slender Skimmer, Orthetrum sabina

It took some time but I finally got this bee in flight. Pity the light wasn't better.
Now for some birds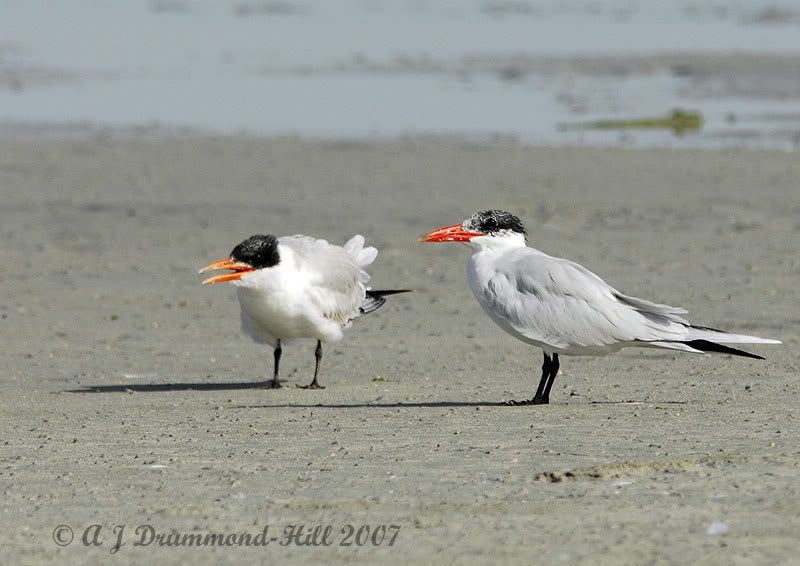 An adult and juvenile Caspian tern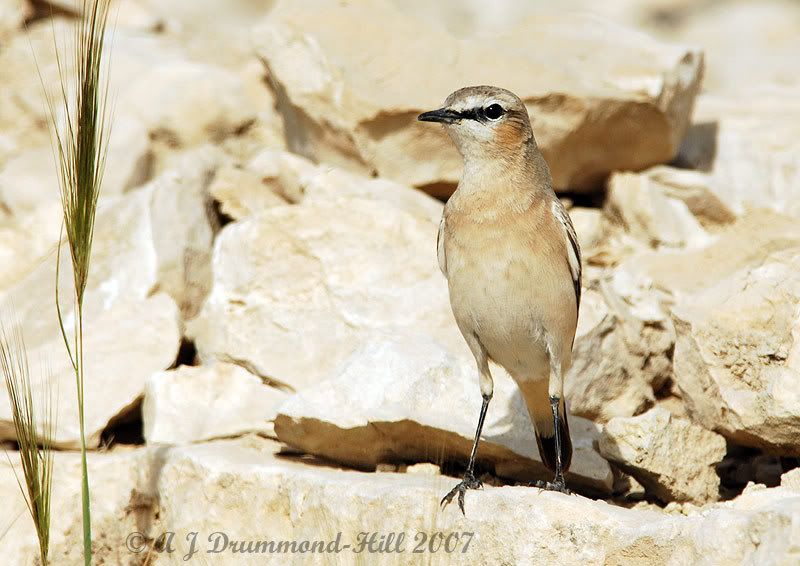 Isabelline wheatear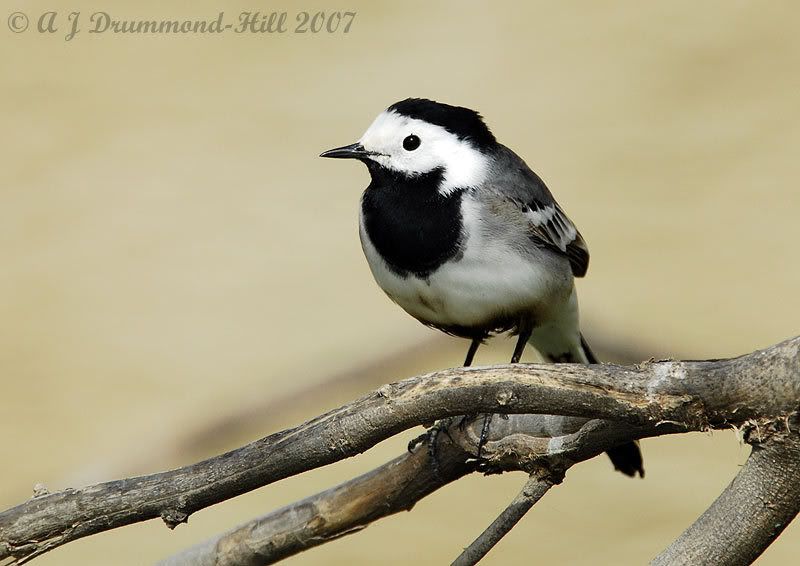 White wagtail

Indian silverbill

A first for me Spanish sparrow

Grey bearded flycatcher. As common as muck.
08/03/07
A small selection of today's pictures - Categories:
Bird Images (posts)
-
ajdh
@
05:31:57 pm
Lots of birds are changing their colours at the moment and I managed to get pictures of several examples today.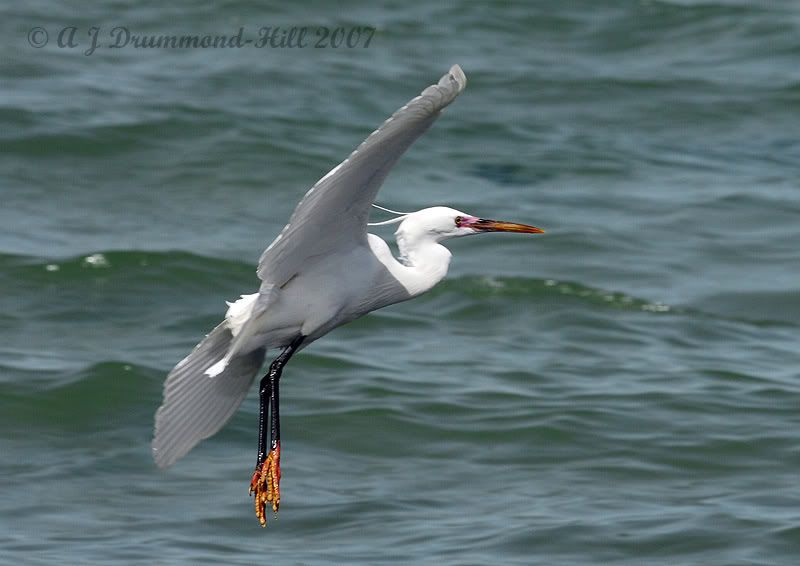 This little egret is showing the pinkish areas around the base of the bill and feet, denoting it as a breeding bird.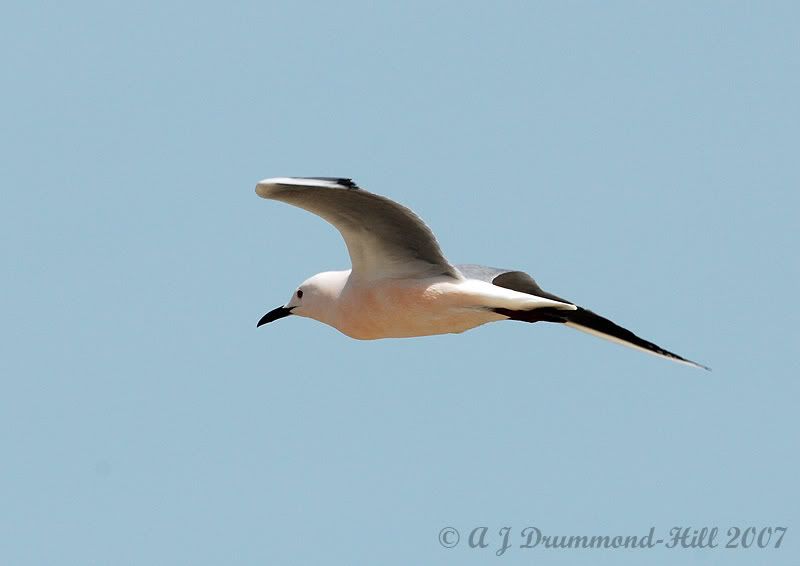 The slender-billed gull has a nice pink cast to it's breast.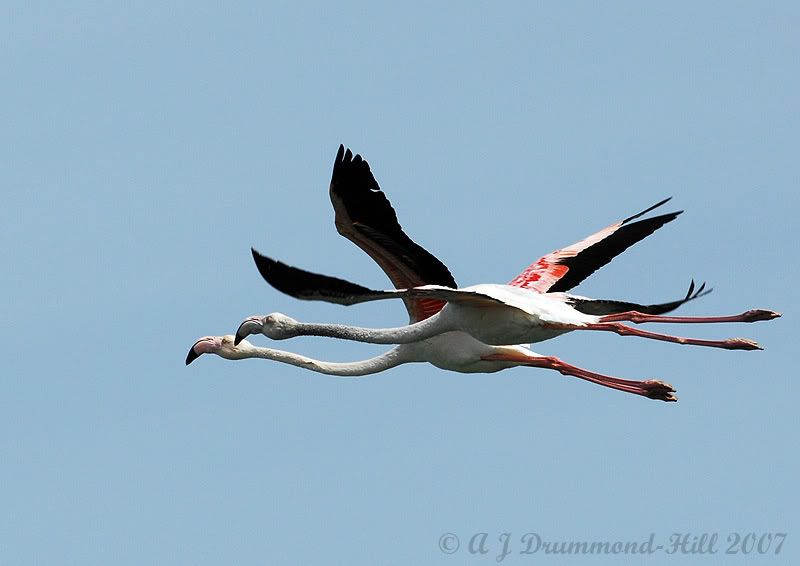 Talking of pink!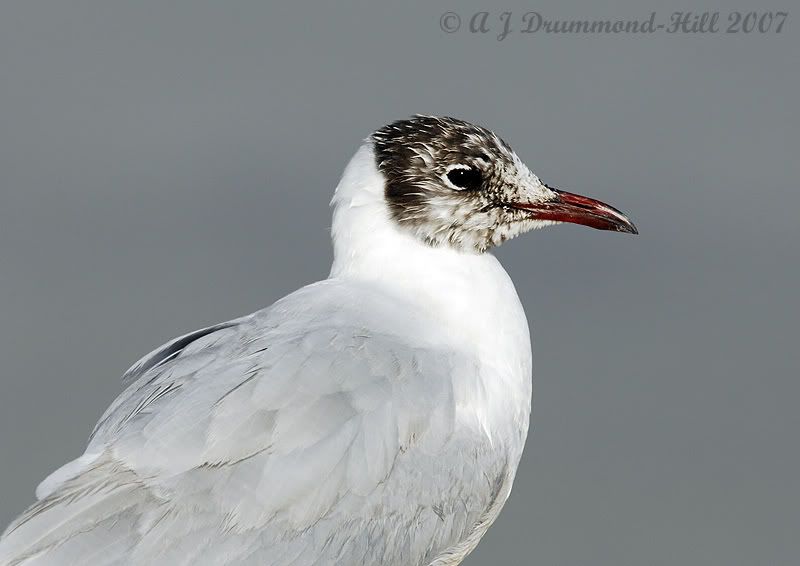 Different stages of colour on a black-headed gull.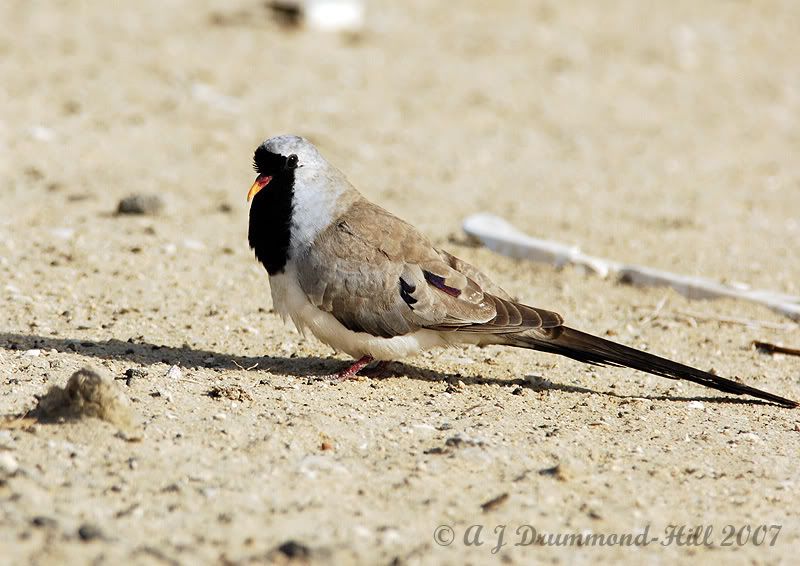 Male namaqua dove.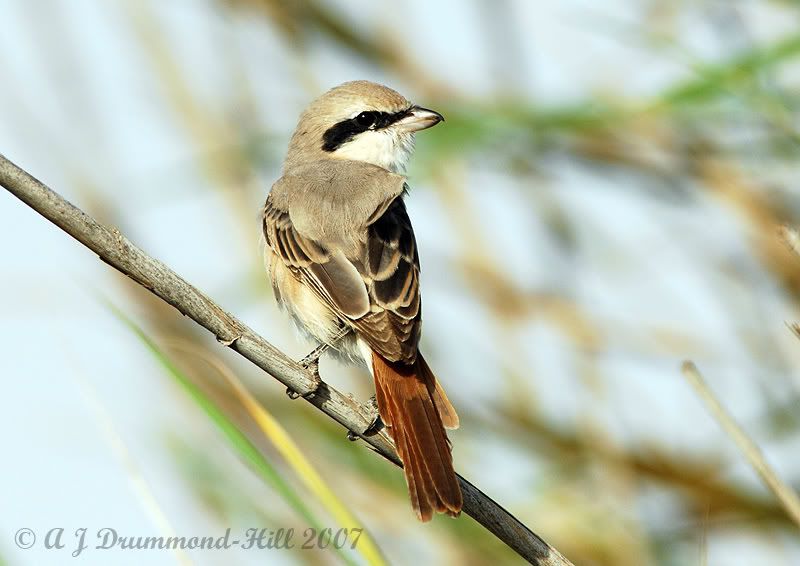 Another isabelline shrike

Tonight's mystery bird. I was thinking of having a phone-in competition for this one, instead send your answers on a £50 note to Howard. :)
I think the branch gives it away.
Praying Mantis - Categories:
Bird Images (posts)
-
ajdh
@
12:17:54 am
I caught this Mantis at work and released it in my back garden so I could photograph it. As I work on a military airbase, cameras are forbidden.